Music

Lady Gaga
The Monster Ball
28 July 2010
Pepsi Center
Denver, Colorado, USA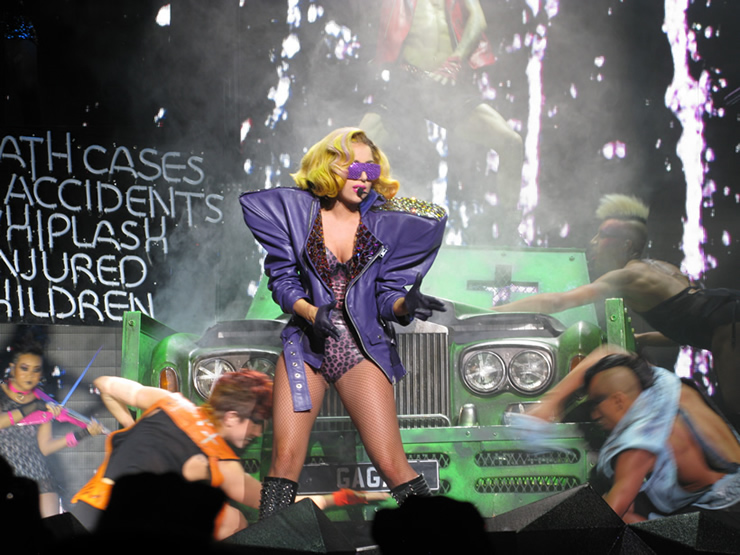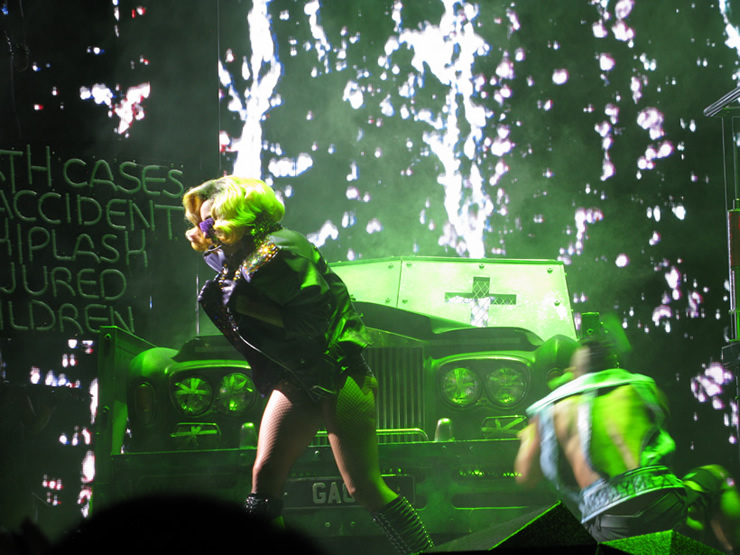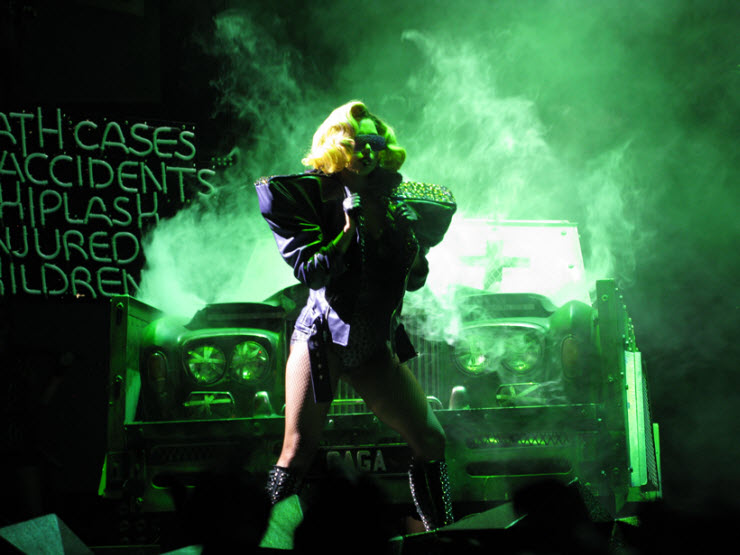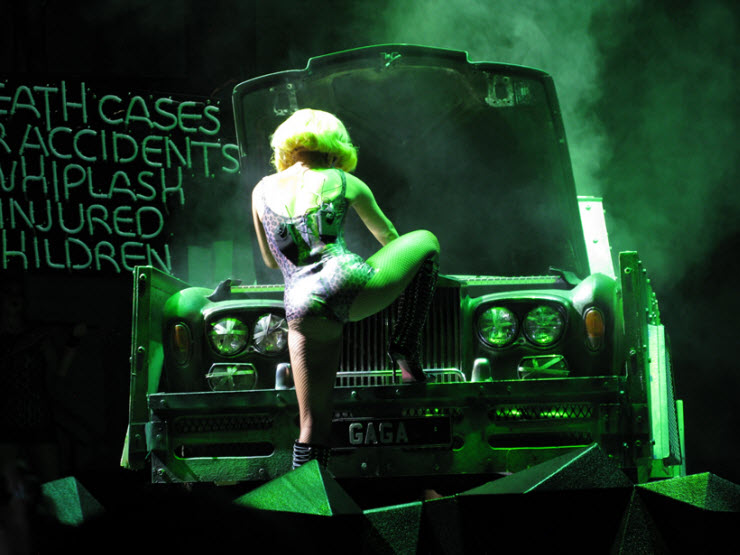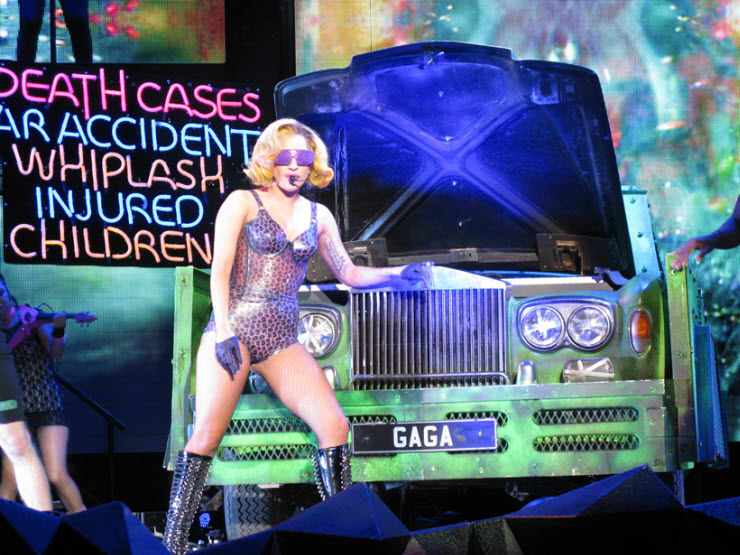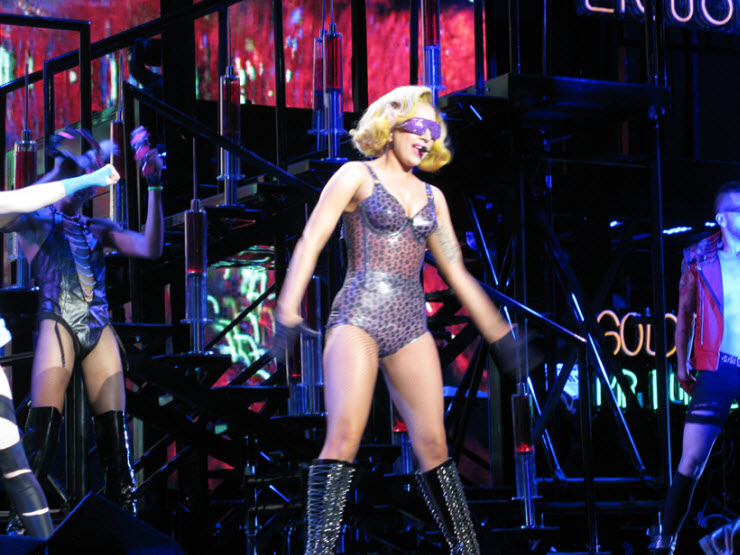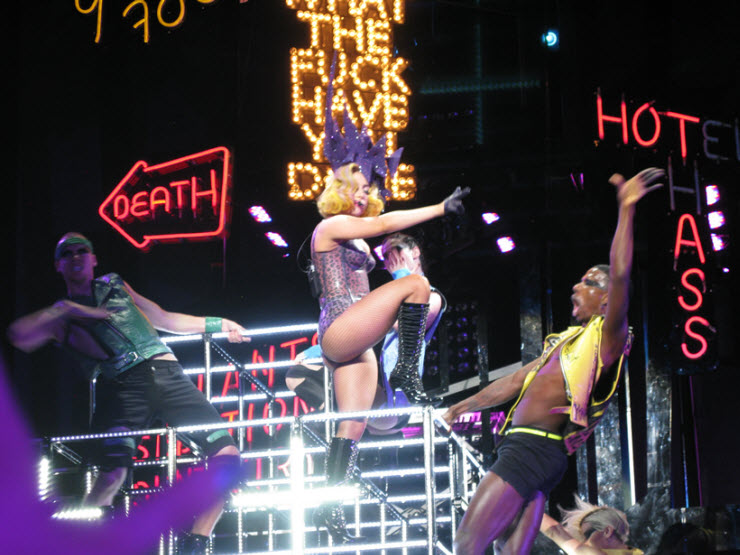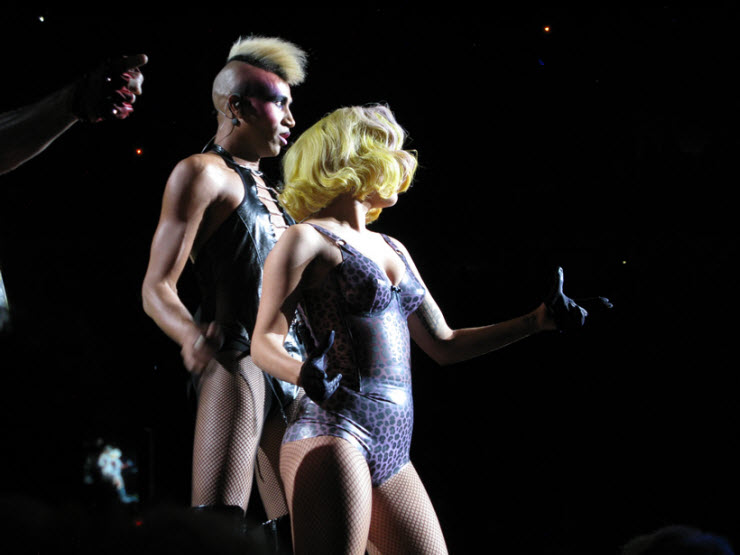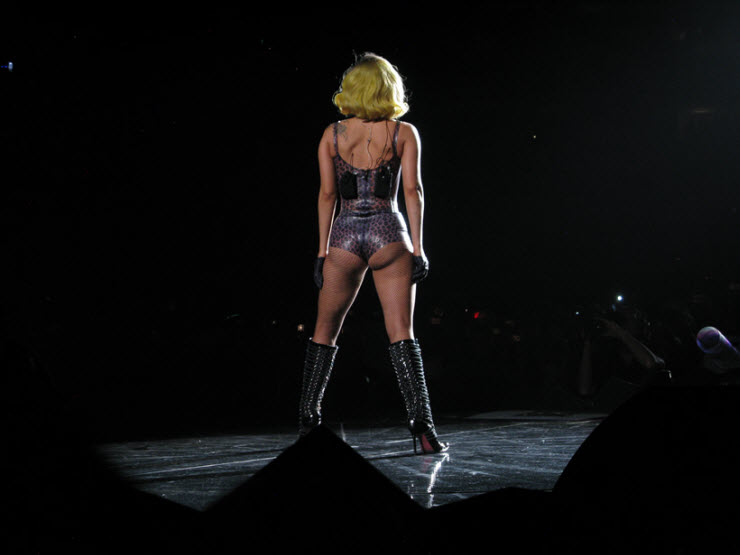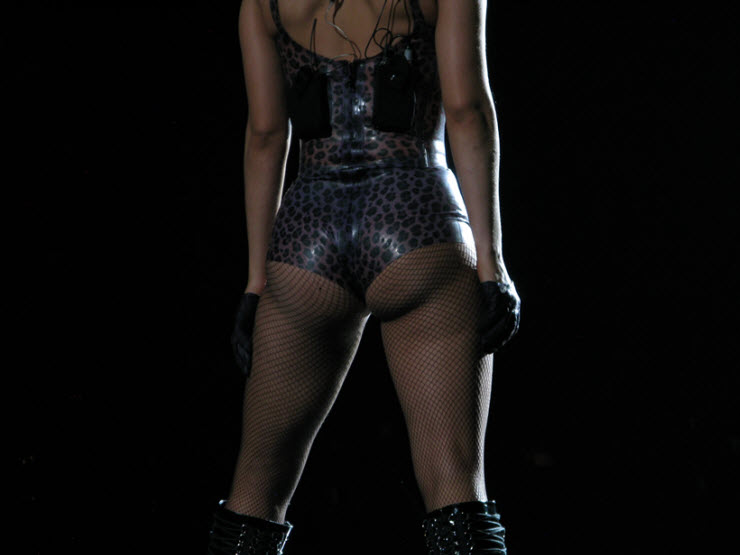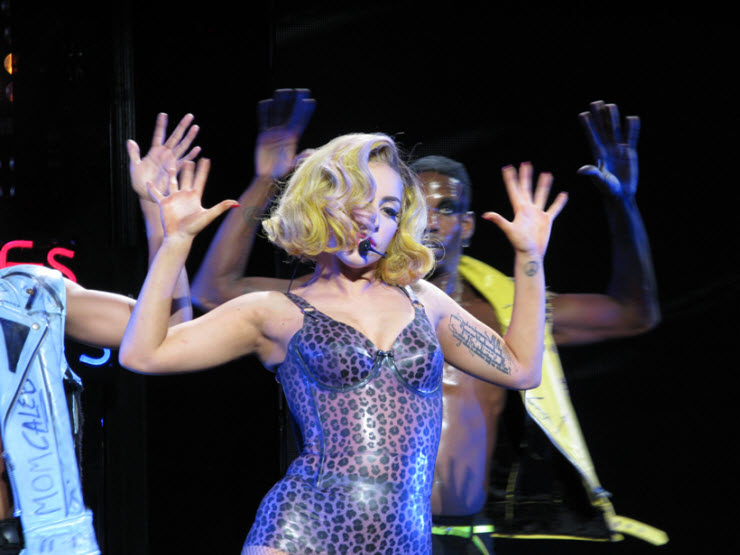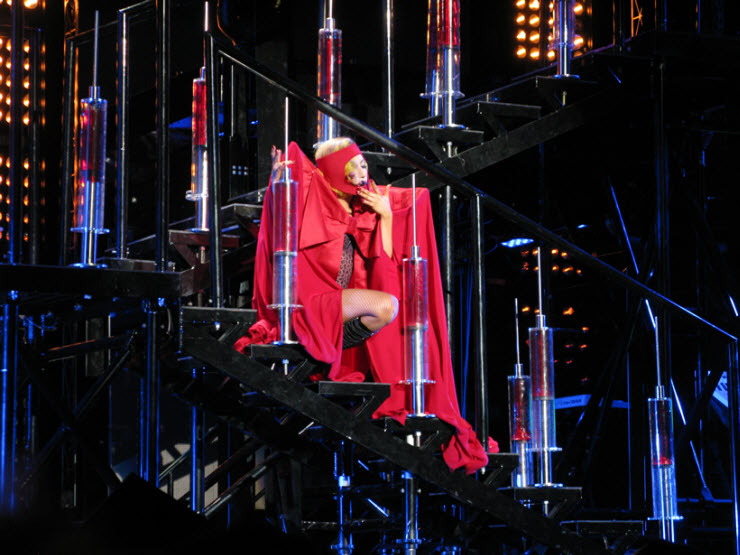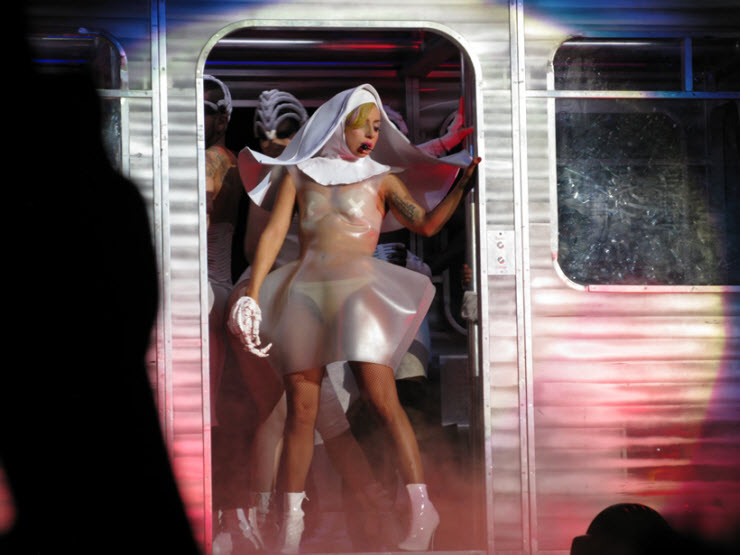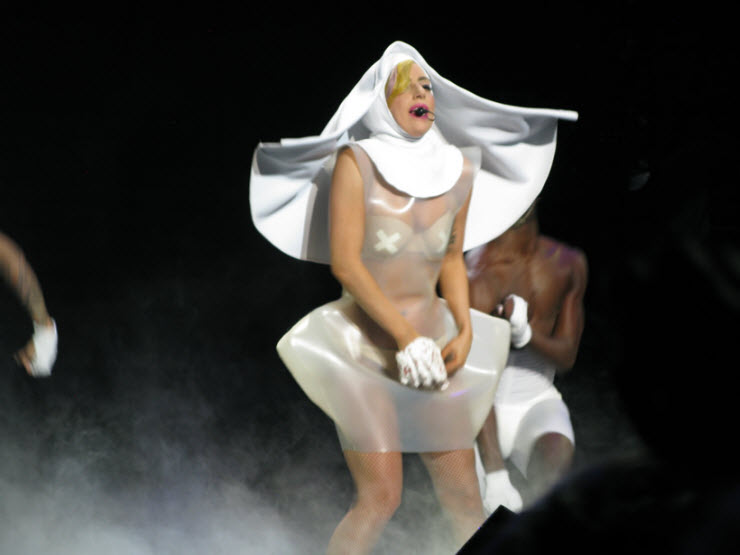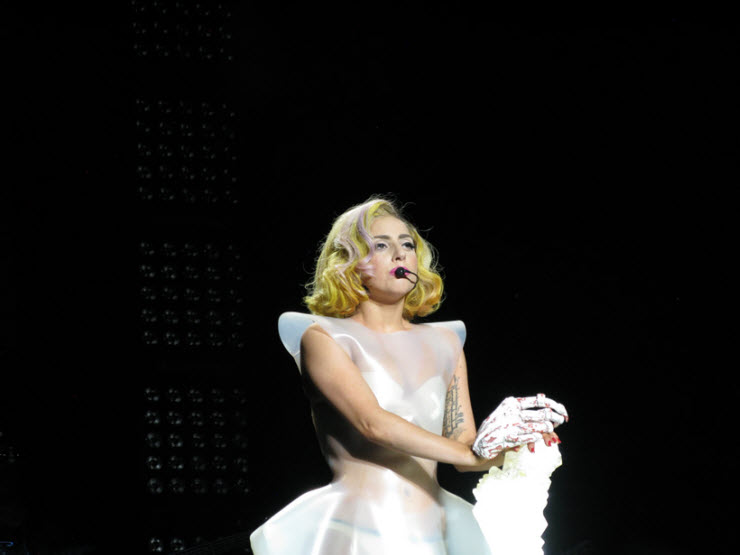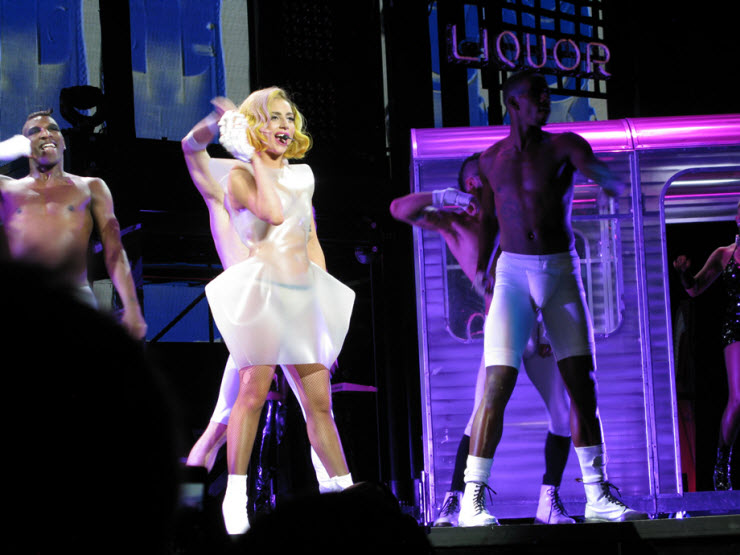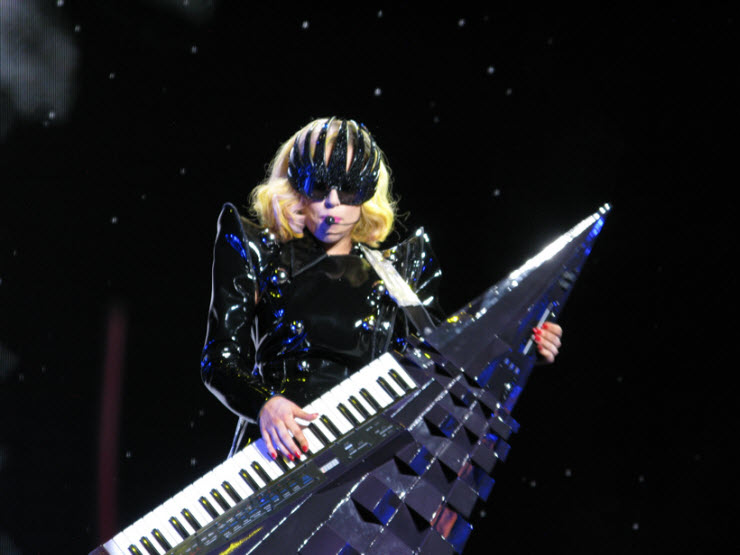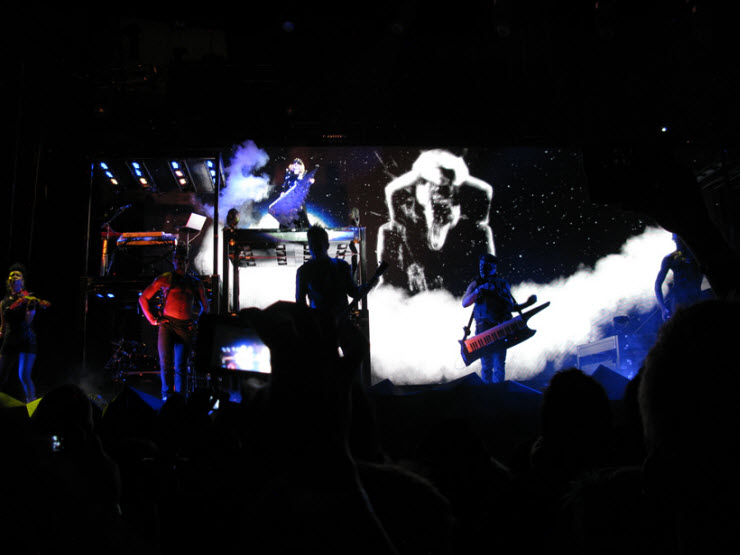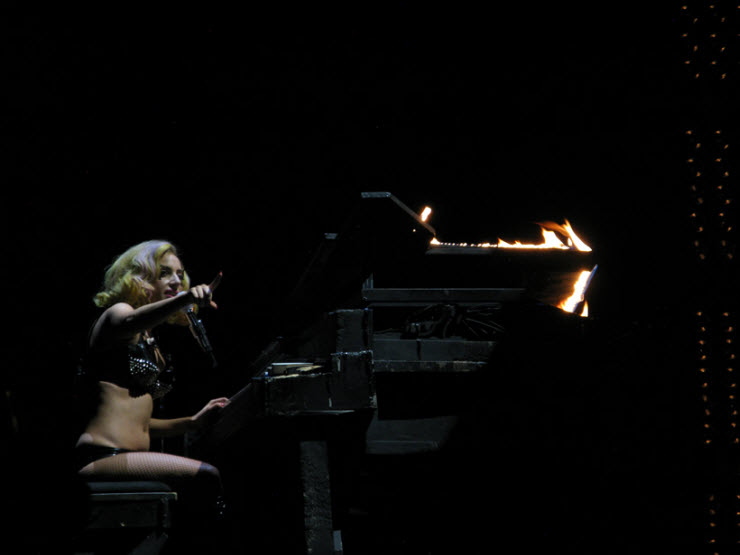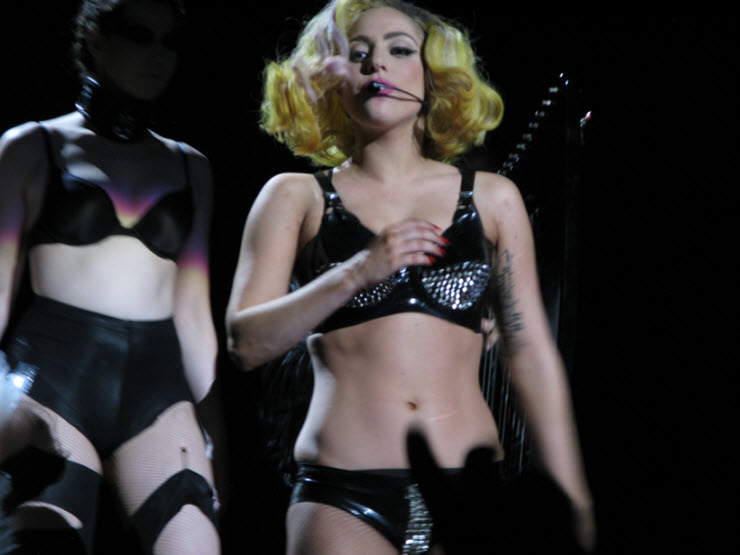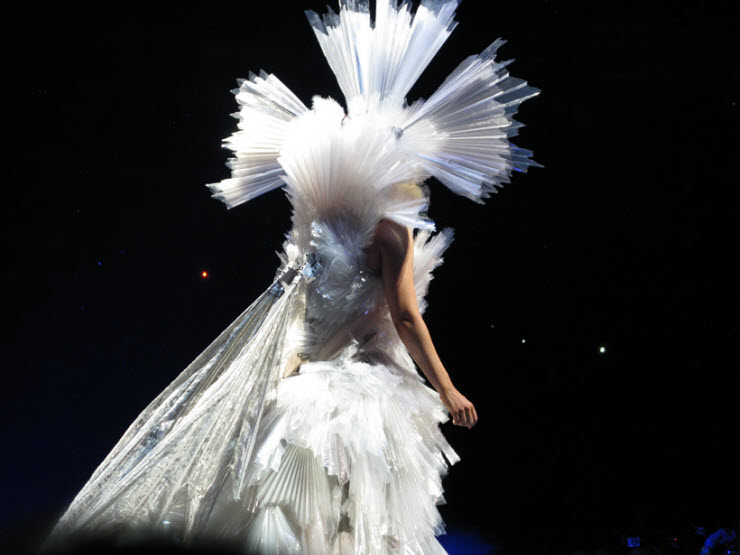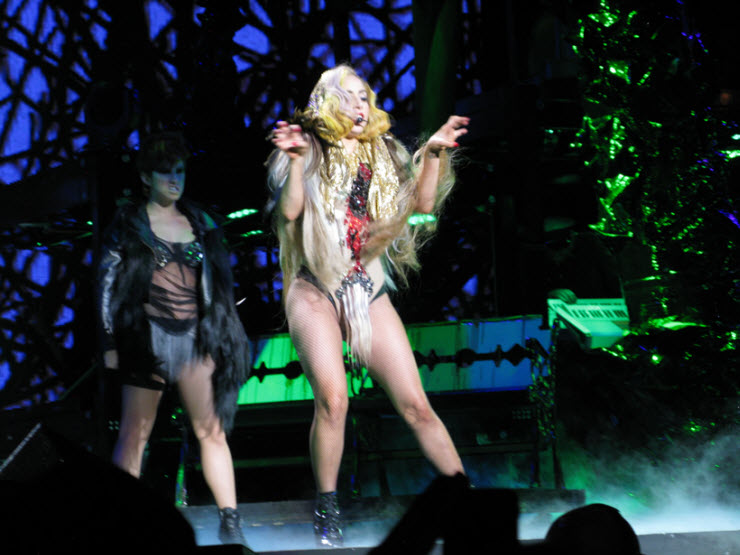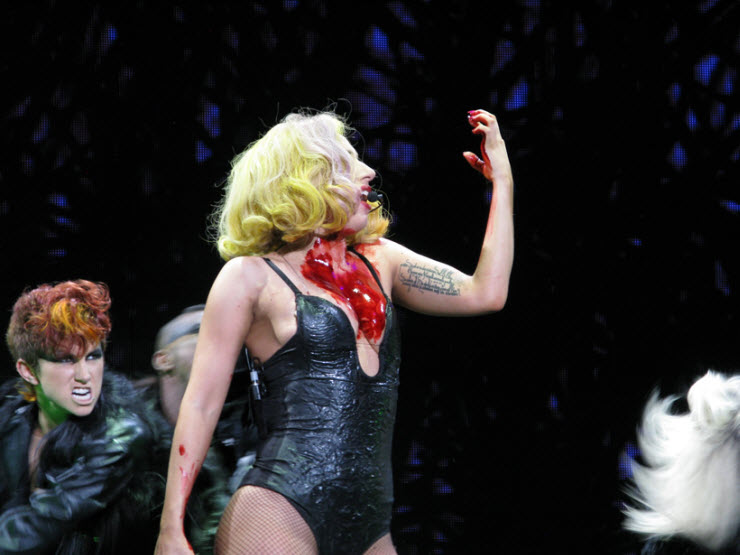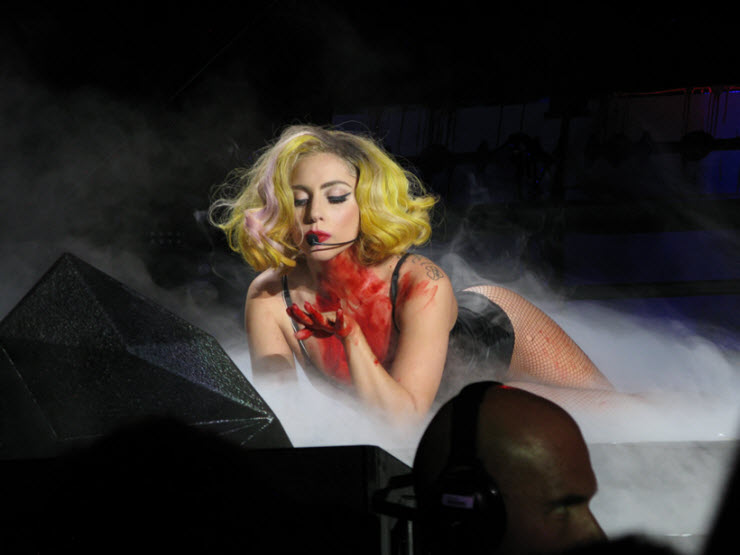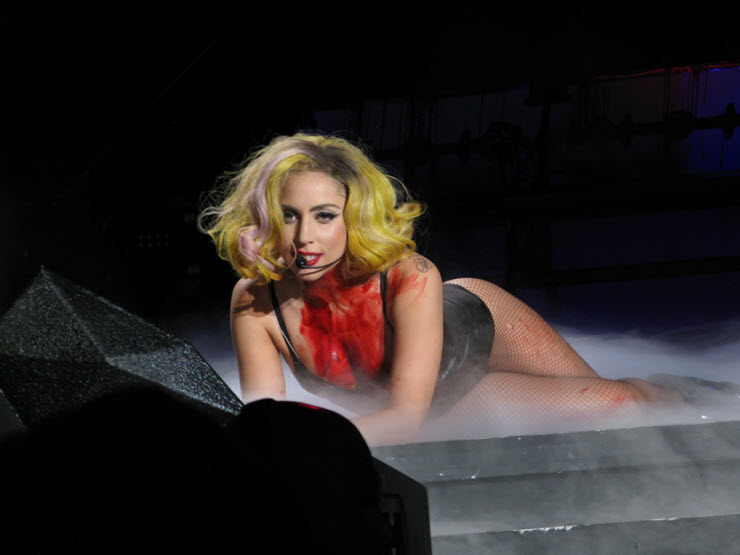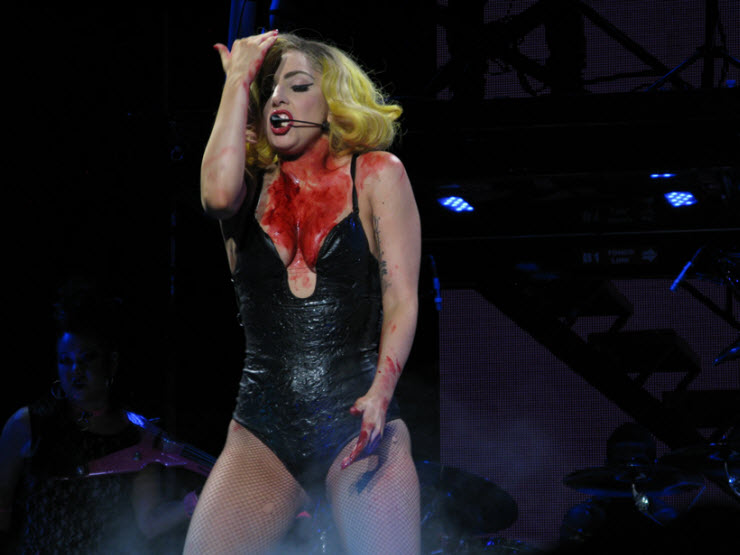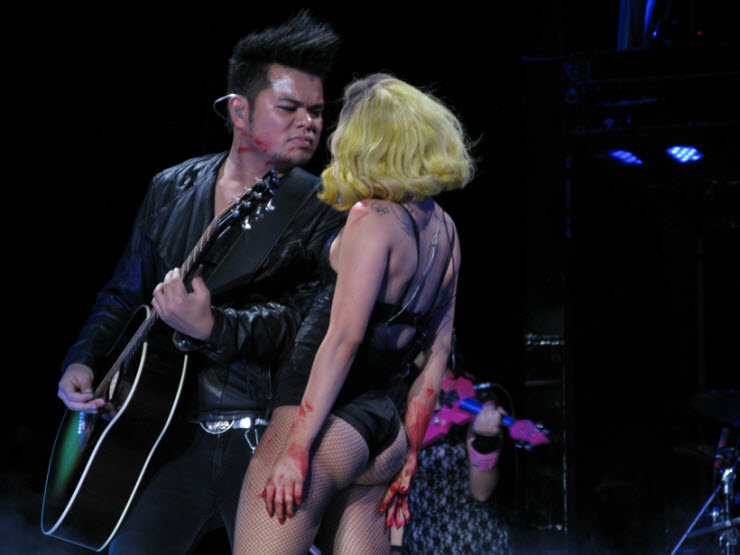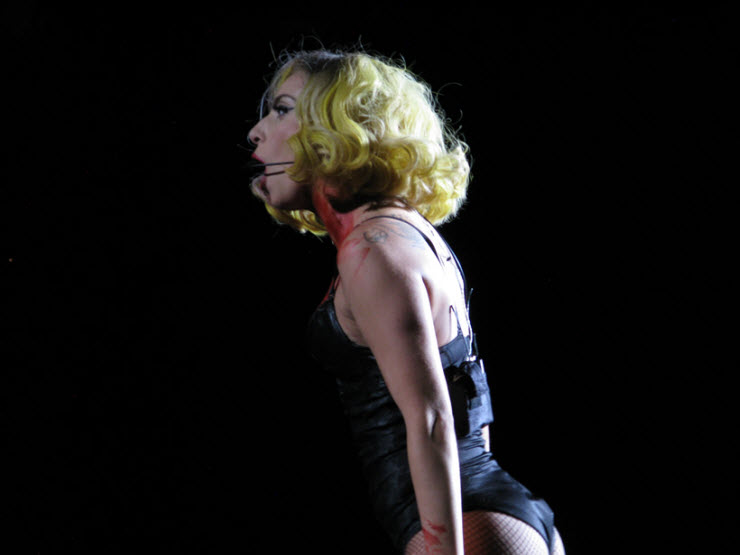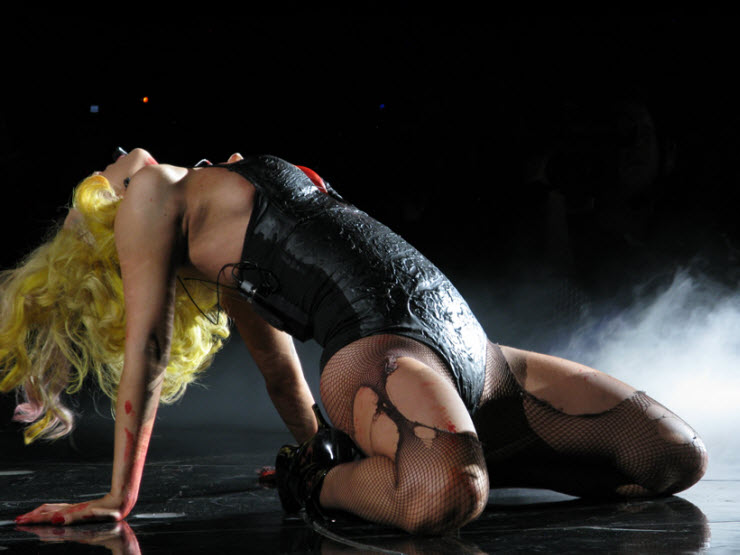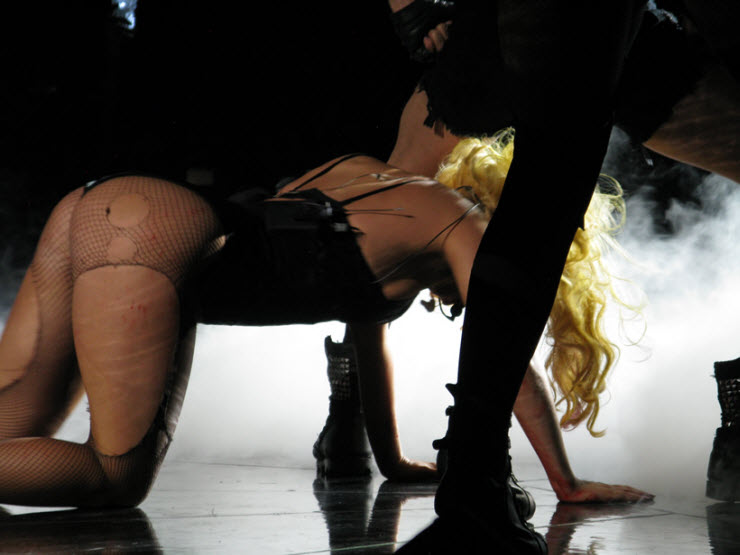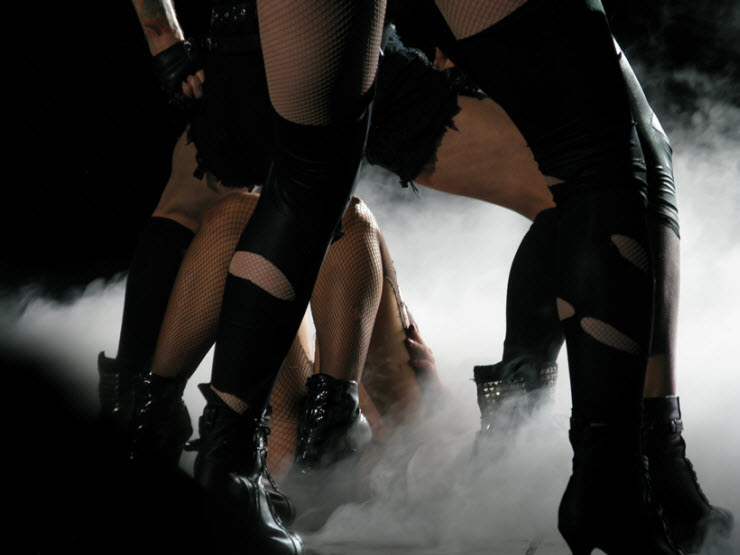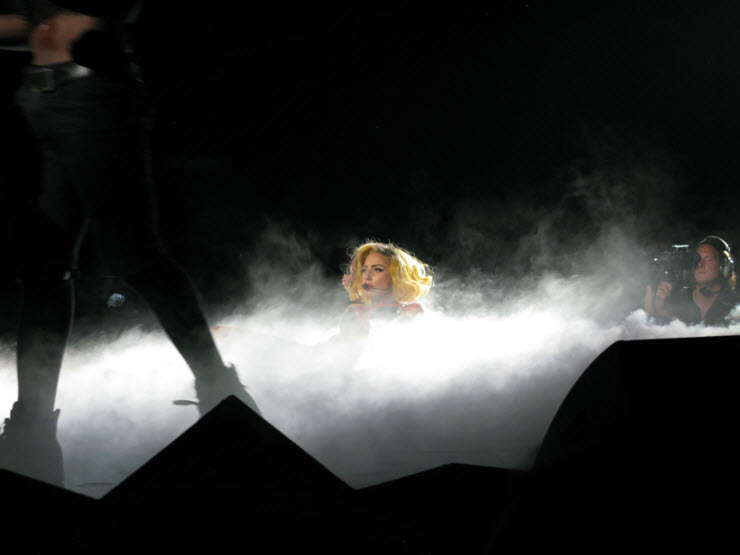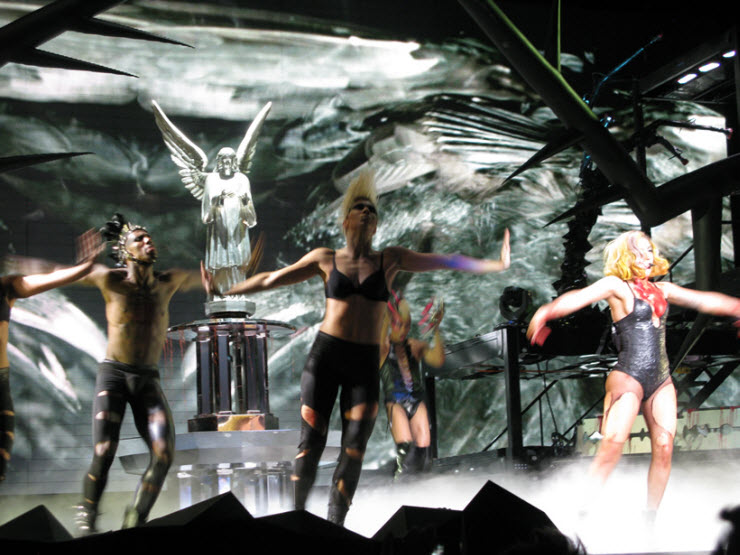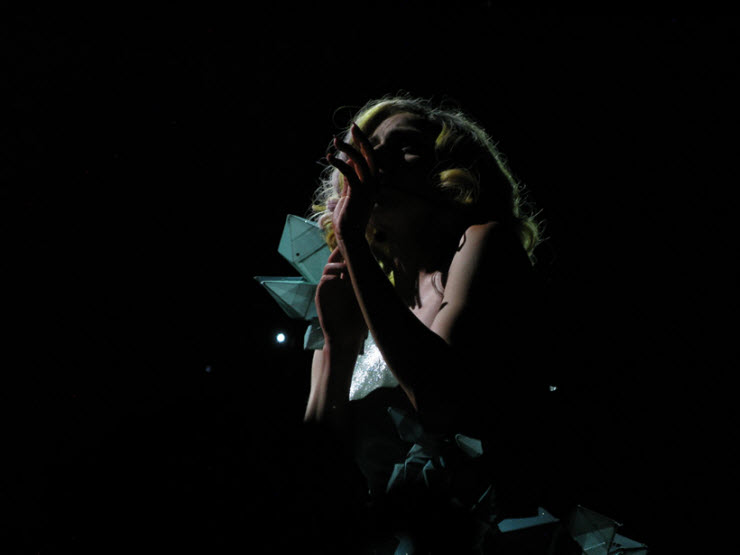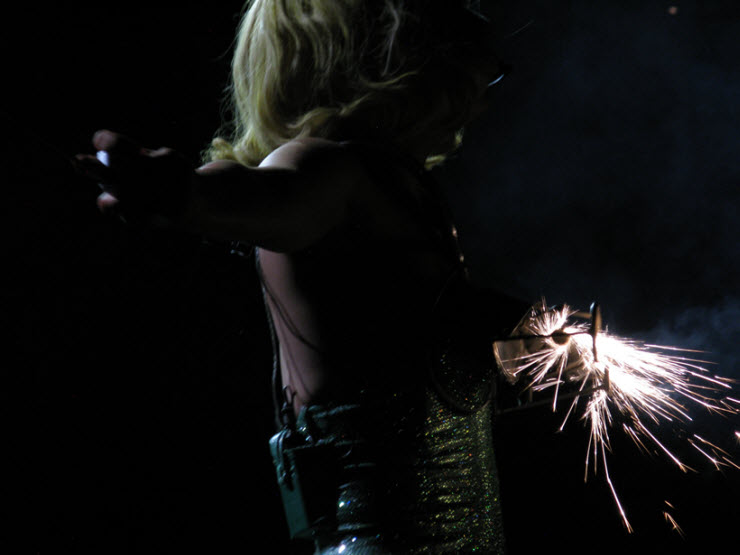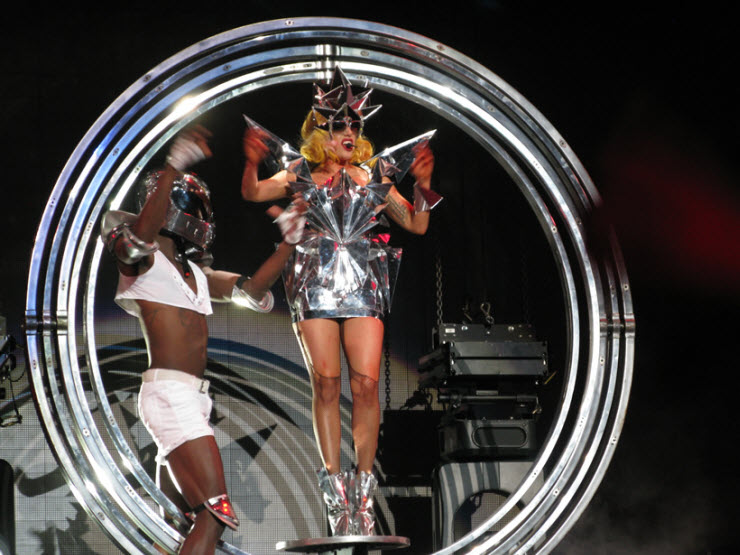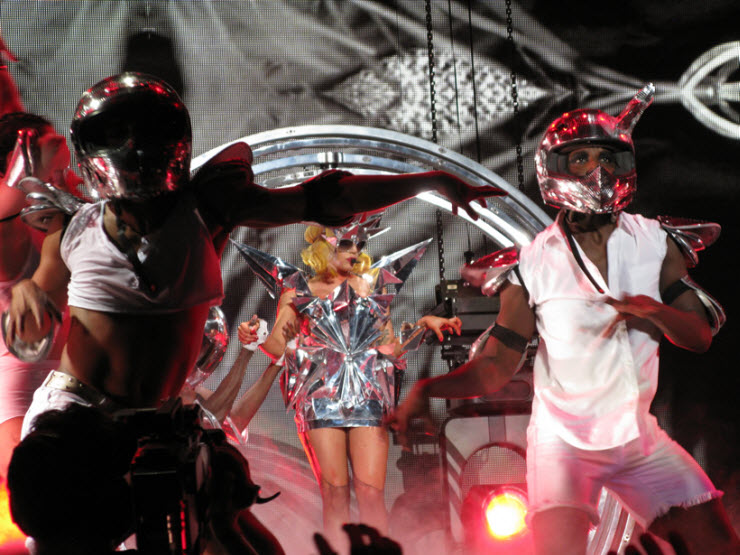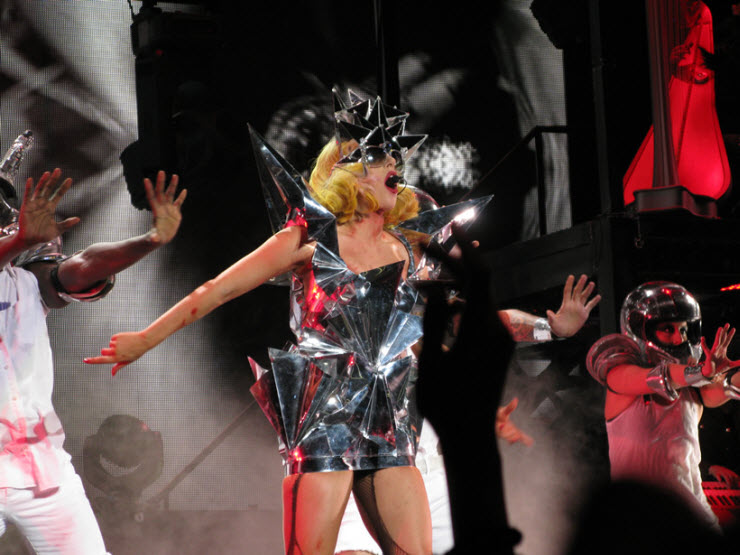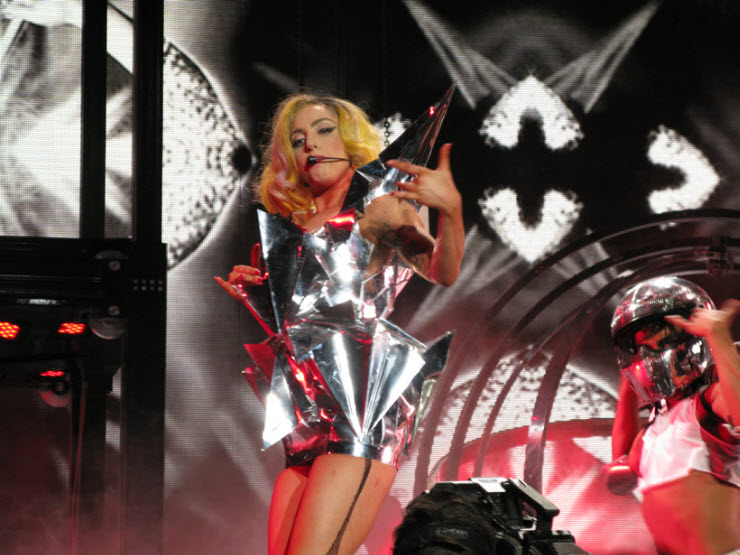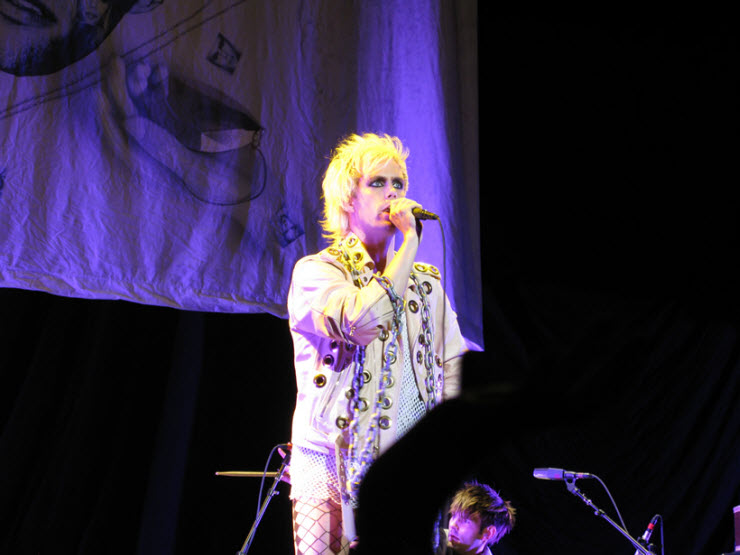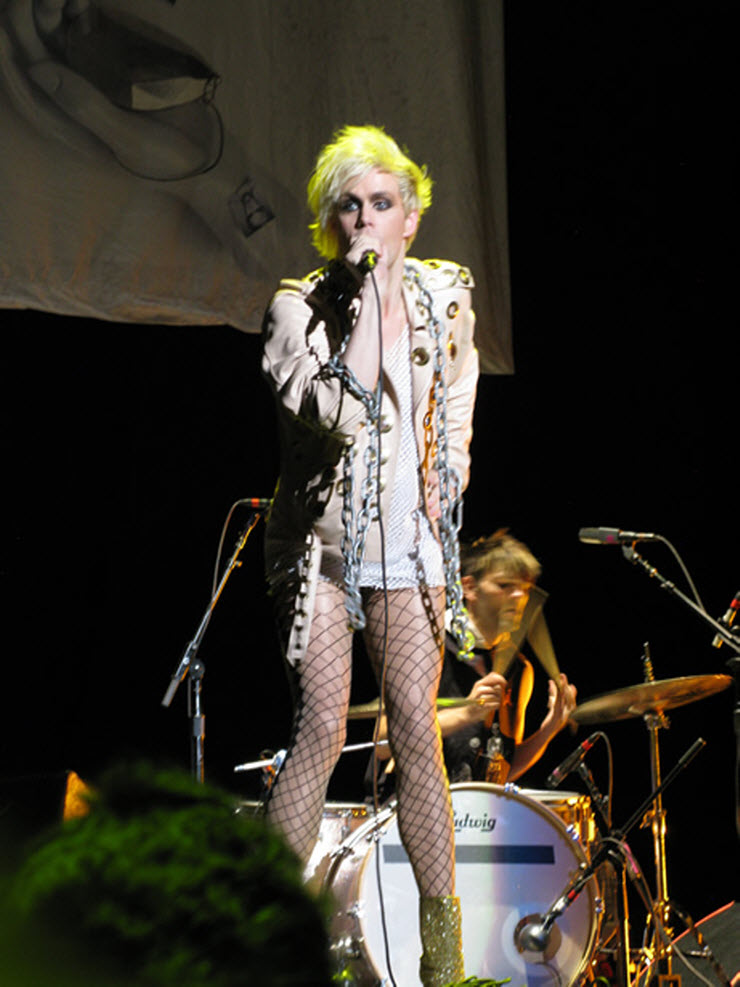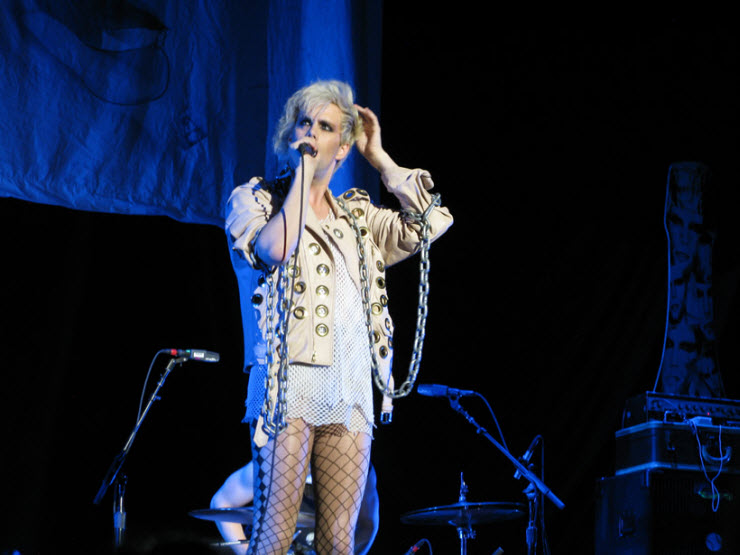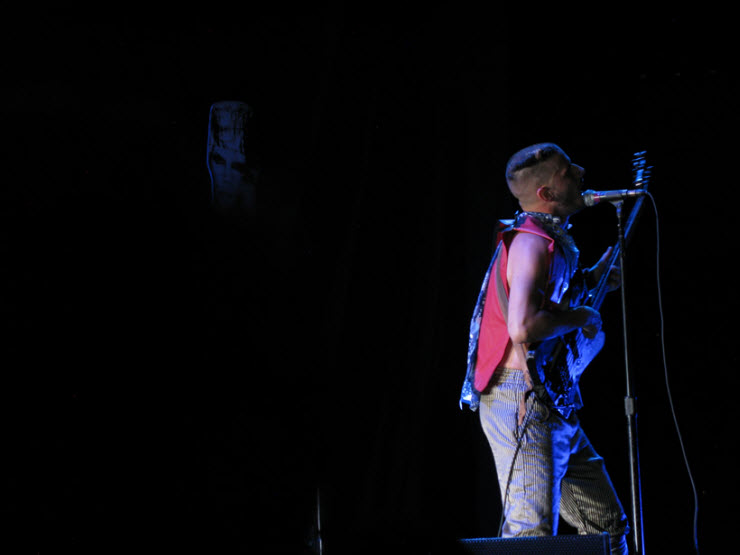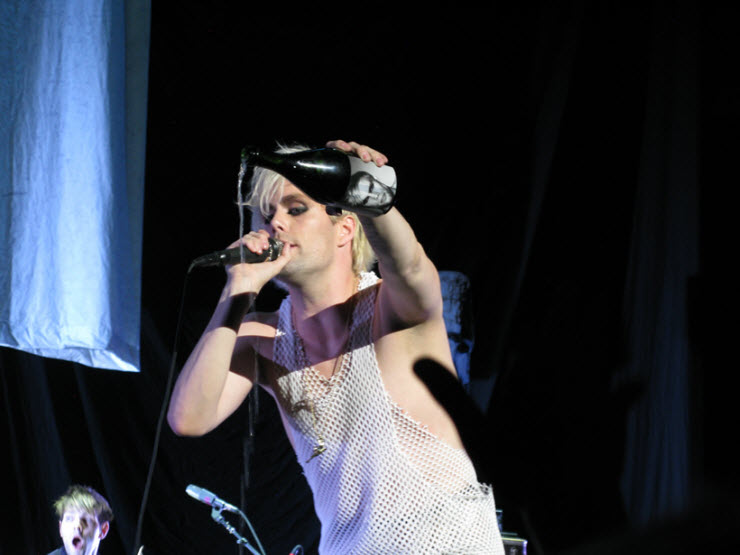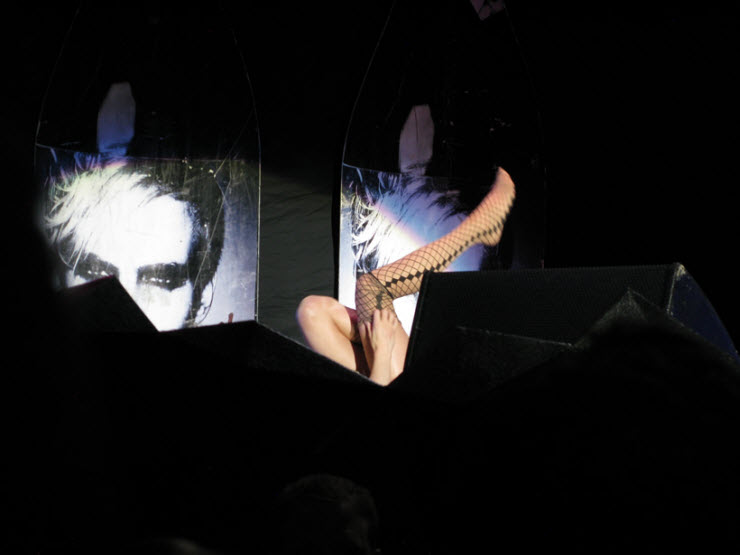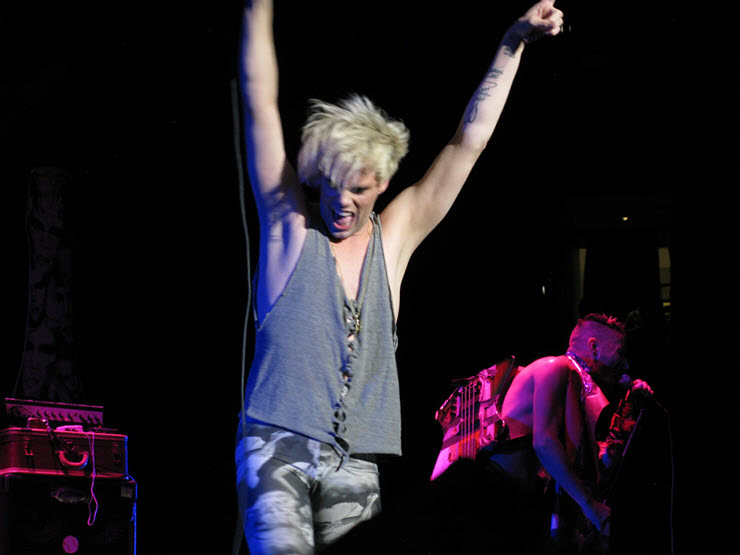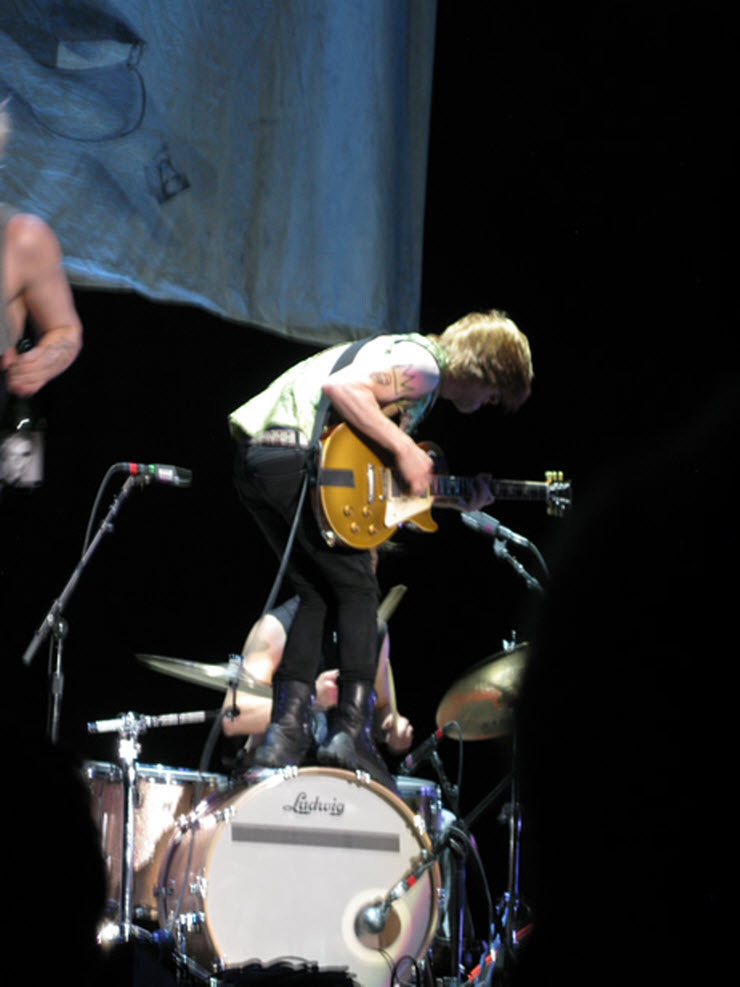 The GA Line and Lady Starlight
Having arrived slightly before 5:00 p.m., the GA line already snaked around to the RTD pedestrian bridge and, on top of that, there was a relatively small crowd segregated out for the elite, VIP Little Monsters early floor access.
There was a lot of flambouyance to behold while waiting on line. Unfortunately, the most scantily clad people were men. In fishnets and high heels. In nude-colored underwear with a strategically-placed, glittery red star - and wings. In nun-like garb. Lots of eye candy for those so inclined. And the crowd was most definitely well-behaved and amiable.
Props to the Pepsi Center security crew, who seemed to have a pretty good handle on the GA process. Even with my fairly late arrival, I still managed to be right off the stage, just two or three people away, depending on the stage activity. The extended catwalk certainly helped with offering plenty of close-in opportunities. And no doubt some of the people in front of me missed the point and did something stupid like grab a beer or go potty before claiming their tiny piece of floor space.
Continuing the trend of non-stop entertainment that started with the GA line itself, there was a DJ onstage, Lady Starlight, already warming up the crowd with her collection of classic rock vinyl.
It turned out to be a New York invasion of Denver. All three acts, Lady Starlight, Semi Precious Weapons, and Lady Gaga, hail from the Big Apple. An unexpected bonus act, Lady Startlight was entertaining enough, and she was certainly an added bonus for those of us standing around on the floor, who would've otherwise spent the hour staring at a blank stage. Def Leppard, Ozzy Osbourne, Survivor, all sorts of classic masters of hard rock filled her vinyl collection. And she danced around, pumped her fists, flashed the universal "rock on" hand sign, and performed some mini-scale pop theatrics.
Semi Precious Weapons
A bigger surprise, though, was how good Semi Precious Weapons turned out to be. Yeah, they're obnoxious and nasty, but they represent a type of rock that's becoming harder and harder to find. Think Duran Duran meets Def Leppard and you might get the idea. The lead singer apologized to all the parents in the house for the band's raunchiness, but then he said the parents should thank the band for introducing their children to REAL rock 'n' roll. And, really, when it comes down to it, they're four nice guys. They made it a point, while pimping their new album, You Love You, to meet fans after Lady Gaga's show; they autographed their CDs and posed for pictures. They had a healthy queue of people waiting to do just that and the band seemed genuinely excited and into the attention.
All the more impressive, though, was when the ultra-glam lead singer, Justin Tranter, provided the audience with some background info. They've been playing with Lady Gaga since 2006. And their first show, in a New York City bar, was in front of 12 people.
Tranter thanked the crowd for being more than "12 f$#*in' people."
Think about it. From 12 to 20,000 in four years. Wow!
Tranter has the swagger of a young Mick Jagger. He spat up champagne (in a bottle with his mug on the label) and even did an onstage wardrobe change, swapping out fishnets and glittery high-heel boots for spandex (with his mug on it) and a different pair of glittery high-heel boots.
Lady Gaga
I admit I didn't know all that much about Lady Gaga prior to the show. I knew she was a New Yorker, so my Central Park Baseball T-shirt was my big wardrobe choice. I heard some of her stuff here and there, and that was enough to make the purchase of a general admission ticket tempting enough. It's always awesome to be down close, unencumbered by nonsense like seats. And that's the biggest reason why I tuned out Paul McCartney's visit only a couple weeks ago. That and the obnoxious front-row ticket prices (in the neighborhood of two grand); the kind of prices that virtually guaranteed those who could/would pay such a price would also wind up sitting through the whole show while checking their watches and cell phones.
Sitting is unacceptable.
Anyway, I now consider myself a Lady Gaga fan. Can't claim to be a Little Monster just yet, but given the incredible production she put on, she's definitely on Radio Free Mattopia's radar from here on out.
The show took a little mental adjustment after Lady Starlight's rock vinyl, then Semi Precious Weapons' all-out flambouyant rock. It started like a theatrical production, with dancers acting... well... "acting," at least for dancers. It brought back memories of the theatricality Justin Timberlake and Christina Aguilera exhibited on their joint tour a few years ago, back when a little-known group called the Black Eyed Peas provided opening support.
During the opening song, a broken-down car serves as the stage centerpiece (and, yeah, it calls to my mind the Trabants from ZOO-TV). Fine enough. I instantly started to anticipate a 90-minute staged, fully-choreographed show.
But things became really interesting when Lady Gaga opened the hood and started tinkering... Not to fix it. Heck no. There's a keyboard under that hood!
Okay. That's cool.
Throw in a catwalk and a multi-media production that included some nifty interstitial video footage, I couldn't help but think of how "my band," U2, pioneered much of what was going on with Lady Gaga.

Lady Gaga: "Paws up" video interstitial
They do seem to have a lot in common, including a healthy message. Yes, Lady Gaga's actually all about generating a positive vibe of love and freedom and independence, but she wraps that message in a much raunchier package than the boys from Dublin.
Lady Gaga frequently made mention of how she hates money but loves her fans. It's hard to tell how sincere the former is, but the latter was on display at all times. Particularly when she phoned a Little Monster in the crowd, who turned out to be at the side-back of the bottom bowl, then had her come on down for a closer seat during the remainder of the show. That also served as an excellent segue when their chat, broadcast for all to hear, was interrupted by a "call" from Beyonce and a solid rendition of Telephone.
As the show progressed, the theatricality was always there with set pieces that included a New York subway car, the Bethesda fountain in Central Park, and a giant monster puppet. But even so, that theatricality took more and more of a back seat to the talent that is Lady Gaga. She won me over with her non-stop creativity and barrage of ideas.
The Haus of Gaga
What's ironic is that I read a commentary on Lady Gaga and her influence on women in music in Sunday's New York Times. The article, by Jon Caramanica, essentially called into question Lady Gaga's talent and basically dismissed her music as distraction being the whole point. To wit, the pull quote, "Madonna used imagery to smuggle ideas about religion or politics. Most of the Gaga generation is interested in distraction as an end in itself."
Dude, you've totally missed the point.
You've missed the vocal power of Lady Gaga's incredibly strong vocal chords. And her ability to play any number of instruments. And her dance technique, which is more performance art than that of, oh, say Madonna.
As for Madonna, Lady Gaga did give what might've been a veiled reference to the Material Girl. Lady Gaga gave a shout out to the people in the far-off nosebleeds. She recalled sitting up there, in seats like that, watching a bitch onstage and wanting to be like her. But "bitch" is a word thrown around loosely and frequently in the Haus of Gaga. So is "asshole." Her drunken father is her favorite asshole, Lady Gaga confided before her piano - literally - burst into flames while performing Speechless. And her fans are her second-favorite assholes. But, don't get her wrong. Lady Gaga made it a point to also say she wants to be the artist who treats her fans better than any other musician in the history of eternity.
Cool! Go for it.
And it occurred to me, while following the trail of bitches and assholes, maybe when Lady Gaga was recently flipping everybody off at CitiField and (new) Yankee Stadium she was merely demonstrating her love for baseball in her own unique way.
Maybe.
I don't think that bitchy attitude is ideal role model material, and I'm glad I don't have kids to contend with in explaining the time and place for Lady Gaga's 'tude. But, at the same time, Lady Gaga's all about empowerment, and, in particular, empowering members of society that are traditionally considered powerless, young girls and homosexuals. I'm neither, but her message is valid all the same. And her choice of favorite cause to promote during the show (much like Bruce Springsteen's efforts to raise awareness for the Food Bank of the Rockies) is Re*Generation, which helps teens rendered homeless by their own parents after outing themselves.
Digging deeper into Lady Gaga's charity work made her all the more interesting and worthy of her growing fan base. Look to the Stars has a very informative article about Lady Gaga's charity work.
Paws up for Lady Gaga.
Her Name Is Lady Gaga and This Is Her Setlist

Lady Gaga introduces herself
Here's the setlist, as supplied by Setlist.fm.
Dance in the Dark
Glitter and Grease
Just Dance
Beautiful, Dirty, Rich
Vanity
The Fame
LoveGame
Boys Boys Boys
Money Honey
Telephone
Speechless
You and I
So Happy I Could Die
Monster
Teeth
Alejandro
Poker Face
Paparazzi
Bad Romance